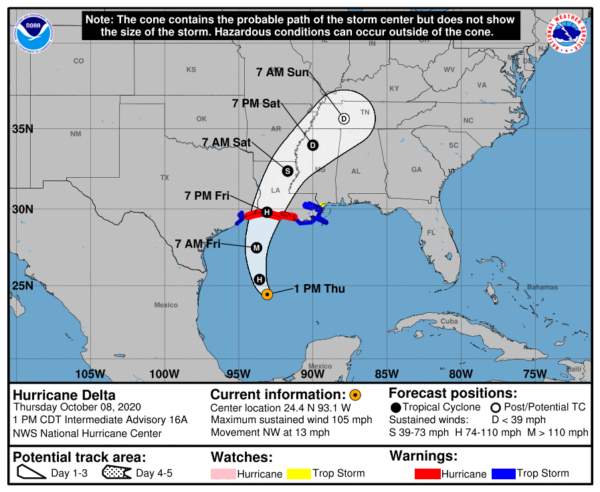 Just a brief update… Hurricane Delta is still just below major hurricane status as winds are holding at 105 MPH, but further organization and intensification is expected today and could be a major hurricane by tonight. With the latest forecast models in conjunction with the forecast track and intensity on Hurricane Delta from the National Hurricane Center, here are the impacts we expect across Central Alabama starting on Friday and going through Sunday night.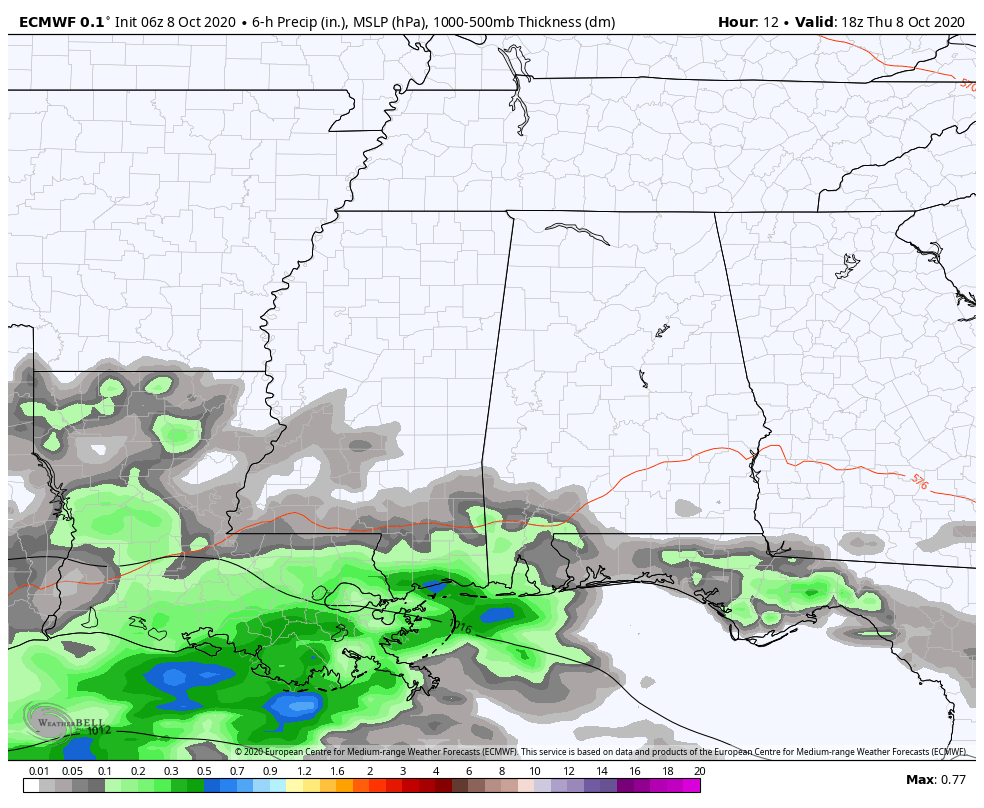 06z European Model valid 1:00 pm today through 7:00 pm Sunday.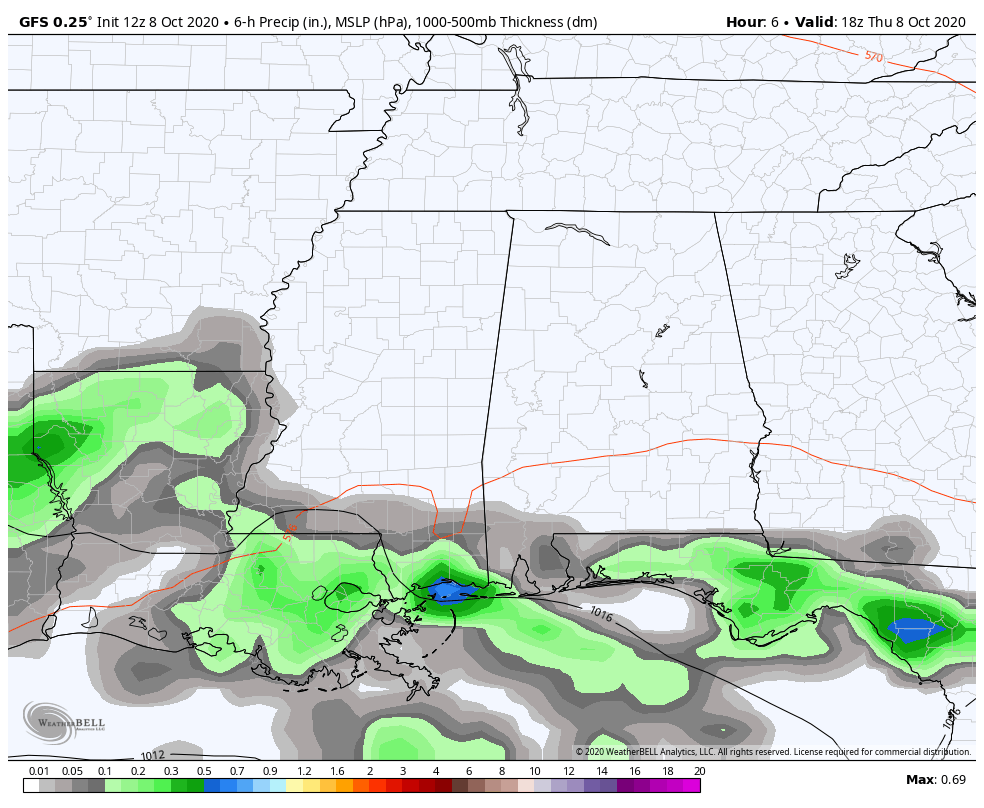 06z European Model valid 1:00 pm today through 7:00 pm Sunday.
FORECAST MODELS: Both the European and GFS models are in close agreement with the landfall of Hurricane Delta on the western Louisiana coast somewhere between 7:00 pm and 10:00 pm on Friday night. We'll have scattered to numerous showers moving in across the area on Friday night with rain beginning to increase in coverage during the overnight and into the early morning hours on Saturday. The heaviest rain will start to move in during the late morning through the rest of Saturday. The European has heavier rain bands continuing through the overnight hours over the northern half of the area at least through midday on Sunday, where the GFS is a little slower with the progression of rain and lighter in amounts. The European ends at 7:00 pm Sunday night with showers remaining over the northern 2/3rds of the area. The GFS continues on through Monday morning with nearly all of the rain out of Central Alabama.
SEVERE POTENTIAL: Both models also show a good bit of instability across Central Alabama on Saturday, mainly through the afternoon and evening hours. With the instability already in place added to the shear moving in with Delta, a few brief spin-up tornadoes and isolated damaging wind gusts up to 60 MPH will be possible across much of the area throughout your Saturday. Therefore, the Storm Prediction Center has much of Central Alabama in a Marginal Risk for severe storms on Saturday. Locations along and south of a line from Ellis Crossroads (Lowndes Co.) to Walnut Hill (Tallapoosa Co.) to Roanoke (Randolph Co.) are not included in the risk area as those locations will be too far east and conditions will not be conducive for severe storms.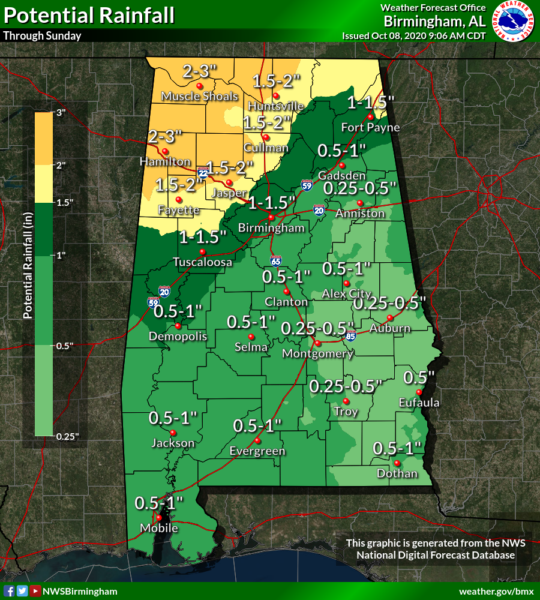 RAIN: Projected rainfall amounts across Central Alabama from now through Sunday night range from as low as 0.25-0.50 inches in the southeastern portions of the area (south of I-85 and east of I-65) to as high as 2.00-3.00 inches for locations in the northwestern parts of the area (along and north of I-22). While this doesn't look to be a big flash flooding threat, some localized flash flooding may occur in those locations where the heavier rain bands are expected to move across the area (north of the I-59 corridor).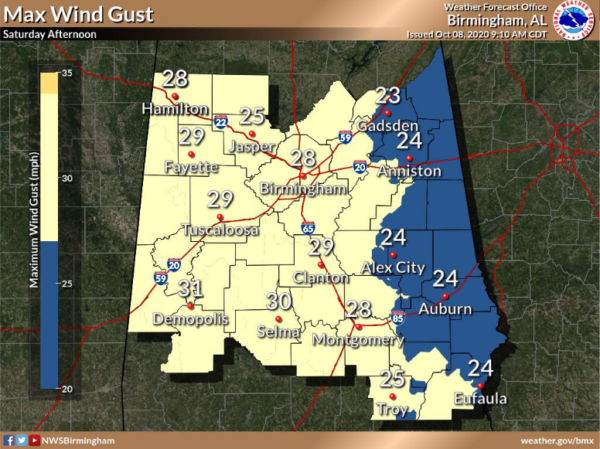 WIND: At the moment, sustained winds will not be all that bad across the area, around 15-25 MPH across the area from east to west (including Cullman County). Maximum wind gusts look to be ranging from 20-35 MPH (around 25 MPH for much of Cullman County) outside of any stronger to severe storms. These winds will be below Wind Advisory criteria at the moment.
BOTTOM LINE: Friday through Sunday will be wet at times as rain becomes likely with a the center of a weakening Delta moving northeastward through Mississippi and eventually through North Alabama. A few stronger to severe storms may be possible on Saturday as the better dynamics with Delta will be moving through the area during the main heating of the day and into the evening hours. A quick hitting tornado and damaging winds up to 60 MPH may be possible starting on Saturday afternoon with the potential coming to an end by the late local news on Saturday night. Rain will eventually wind down and come to an end by real late Sunday night or into the morning hours on Monday. Flash flooding doesn't look to be a major issue, but a few localized flash flooding issues may be possible north of I-59.
We'll continue to have updates through the rest of the day today and throughout your weekend. Check back often as any shift in the forecast track or intensity can greatly affect the impacts across Central Alabama.