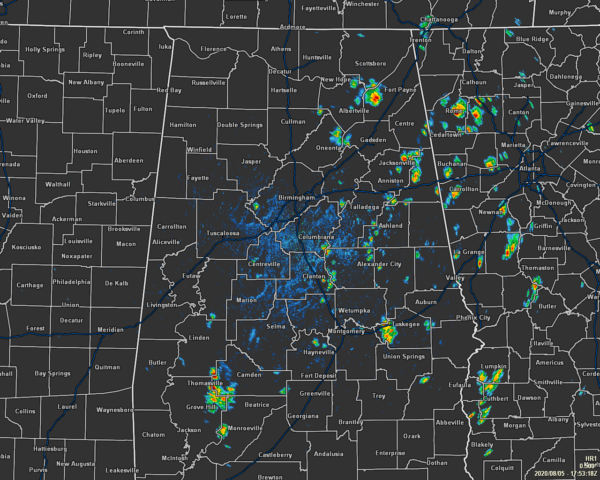 As expected, we have a few isolated to scattered showers and thunderstorms that have developed with most of the action occurring south of the I-59 corridor with the exception of a few showers and storms over portions of Blount, Marshall, and DeKalb counties. None of these appear to be particularly strong at the moment. Temperatures were in the lower 80s to the mid-90s across the area. Cullman was the cool spot at 83 degrees. Montgomery was the hot spot at 94 degrees. Birmingham was sitting at 87 degrees.
Skies will be partly cloudy to mostly clear across the area for the rest of the afternoon and into the early evening hours, but we'll have a chance of showers and thunderstorms at least through sunset. The highest potential for those will be along and in-between the I-59 corridor and the I-85 corridor. Afternoon highs look to top out in the upper 80s to the mid-90s. A few showers and storms may linger around for a couple of hours tonight, but skies will be in the process of clearing out during the late-night and overnight hours. Lows will be in the mid-60s to the lower 70s. Some patchy fog may develop during the overnight hours, so please be cautious if having to drive.
Now with Isaias completely off of the map for the United States, the Atlantic Basin is rather quiet as there is only one disturbance to talk about at the moment. Invest 94L is a small but well-defined low-pressure system that is located a few hundred miles southwest of Bermuda is producing disorganized showers and a few thunderstorms. Although the low has remained nearly stationary today, it is expected to drift west-southwestward during the next couple of days. Any development of this disturbance should be slow to occur due to dry air and increasing upper-level winds by the weekend. NHC only gives it a 10% chance for development over the next five days.
On this day in 1989, thunderstorms produced severe weather in Oklahoma, and from Iowa to the Upper Ohio Valley, with 216 reports of large hail or damaging winds between early Saturday morning and early Sunday morning. Thunderstorms moving across Iowa around sunrise produced extremely high winds which caused ten million dollars damage to crops in Carroll and Greene Counties. Thunderstorm winds at Jefferson IA reached 102 mph. Afternoon thunderstorms produced tennis ball size hail at Bay Mills, Wisconsin.