As of 12:05 pm, skies across much of Central Alabama are partly to mostly cloudy, but down in the south and southwestern parts of the area, a good bit of sunshine is making it to the surface. There may be a few sprinkles falling out there underneath that cloud cover in the northern parts of the area, but mainly everyone in the area is dry at the moment. Temperatures as of the 12:00 pm Round-Up were in the mid-50s to the upper 70s across the area. Troy was the warm spot at 78 degrees while the cool spot was Gadsden at 54 degrees. Birmingham was at 64 degrees.
For the rest of the afternoon and into the early evening hours, a few scattered showers are expected to develop, and maybe a clap of thunder or two, but overall chances will be around 20%-30%. Skies will be partly to mostly cloudy for most, but some locations could see a good bit of sunshine for a little while. Afternoon highs will be in the upper 60s to the lower 80s across the area. For tonight and through the overnight hours, showers will become likely for the northern half of the area and rain chances will steadily fall as you go south in the area. When it is not raining, skies will be mainly cloudy and lows will be in the mid-50s to the lower 60s.
Tuesday will feature mostly cloudy skies and few scattered showers and a thunderstorm or two during the afternoon hours. Nothing is expected to get out of hand as strong to severe storms look unlikely. It will be another very mild to warm day as highs will be in the lower 70s to the lower 80s across the area from north to south.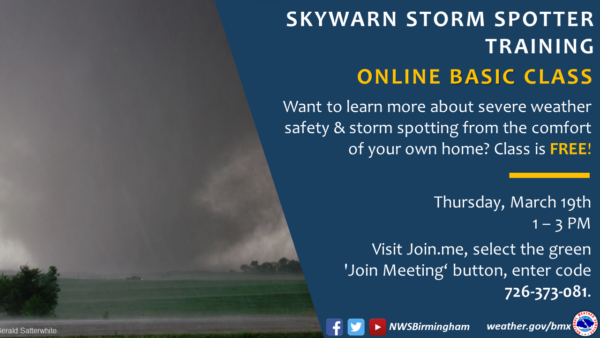 For those looking after kids due to school closures, this may be a neat look into the world of weather & NWS Birmingham invites you to join us! Their final ONLINE storm spotter class (basic level) is this Thursday, March 19th at 1:00 pm CDT. For more information on SKYWARN Storm Spotter Training, please visit the NWS Birmingham SKYWARN Storm Spotter page on their website.