Weather For The Rest Of Your Friday
As of 11:13 am, we have a few light showers showing up on radar over the extreme north and northwestern parts of the state, along with some light rain showing over the extreme southwestern parts of Central Alabama and back into Mississippi. Much of the area is covered with clouds, but there are a few places in North/Central Alabama who are seeing some sun at this point. Temperatures are in the lower 60s to the lower 70s across the area. Birmingham was at 66 degrees. The warm spot was Montgomery at 71 degrees. The cool spot was Haleyville at 62 degrees.
We'll have a small chance of passing showers for the eastern half of the area throughout the remainder of the daylight hours, with showers being a little more likely over the western half of the area. Skies will be mostly cloudy when not raining and highs will be in the upper 60s to the lower 70s. A few rumbles of thunder are possible over the west.
Tonight, chances for showers and a few thunderstorms will increase over all of North/Central Alabama, with the higher chances remaining over the western half. Graident winds will start to pick up after midnight averaging 10-20 MPH with gusts up to 40 MPH possible at times. Lows will be in the upper 50s to the mid-60s. So severe weather is expected tonight.
Not Much Change In The Thinking For Saturday's Threat Of Severe Storms
As of 10:50 am, the latest Day 2 Outlook from the Storm Prediction Center continues to have much of the southern two-thirds of Alabama in an Enhanced Risk for severe storms (level 3 of 5) with the rest of the state in a Slight Risk (level 2 of 5). NWS Birmingham continues the Enhanced Risk in their local outlook for their county warning area. Tornadoes (some could be strong) and damaging winds in excess of 70 MPH are possible.
Timing at this point continues to be 10:00 am to 3:00 pm for the western parts of the area (west of a line from Addison in Winston Co. to Coaling in Tuscaloosa Co. to just west of Orrville in Dallas Co.), 12:00 pm to 6:00 pm for the I-65 corridor and surrounding areas (east of the previous line to a line stretching from Glencoe in Etowah Co. to Eclectic in Elmore Co. to Goshen in Pike Co.), and 2:00 pm to 8:00 pm for the eastern parts (east of the previous line to the AL/GA state line).
Wind Advisories have been issued for all of North/Central Alabama starting at midnight tonight and is set to expire at 9:00 pm Saturday night.
The higher-resolution convective-allowing models continue to shows a very high amount of wind shear and helicity in place across the area ahead of the main squall line as it moves eastward. Surface-based instability has also been rising somewhat as well. All that to say we'll have an enhanced threat of damaging winds and a few tornadoes across all of the area. Roughly north of I-20 would have a higher damaging wind threat, with a higher tornado threat south of that.
Also, winds up at 5,000 feet above the surface will be as high as 80-100 MPH. With the ingredients in place, it won't take much to get those winds to be pulled down to the surface. With the saturated soil already across the area, we will need to treat severe thunderstorm warnings as the same as tornado warnings as trees will be easier to be blown over.
To take the words from NWS Birmingham… Why are we posting what we post? It's not to cause panic, or start debates, it's to encourage and stress how important it is to be ready. Prepare now, stay aware Saturday, and if a warning is issued, take action on what you prepared.
Follow me on Twitter (@ScottMartinWx) as watches and warnings will instantly show when they are issued.
But, don't just use my Twitter feed for your warning information. Have multiple ways to get your warnings. The above graphic shows great places to get those warnings from.
Gulf Coast Has More Than Severe Weather To Worry About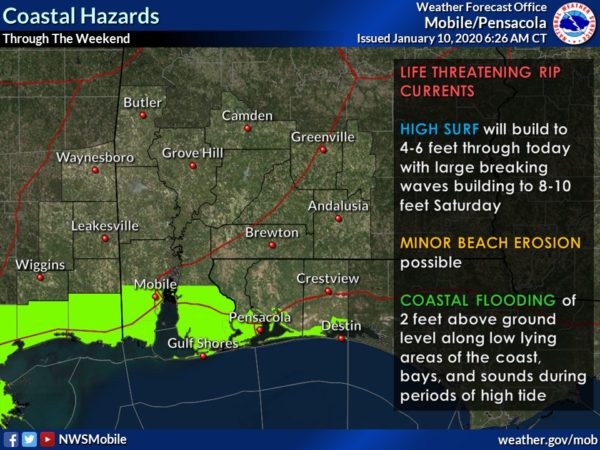 High surf, life-threatening rip currents, and coastal flooding will be possible today and this weekend along the Gulf Coast of Mississippi, Alabama, and the Florida Panhandle. Double red flags are flying in Orange Beach which means the Gulf waters are closed. Waves could reach as high as 8-10 feet on Saturday, after building from wave heights of 4-6 feet today. Some minor beach erosion will be possible. There is also the potential of coastal flooding with as much as 2 feet above ground along the low-lying areas of the coast, bays, and sounds during the high tide periods.
---