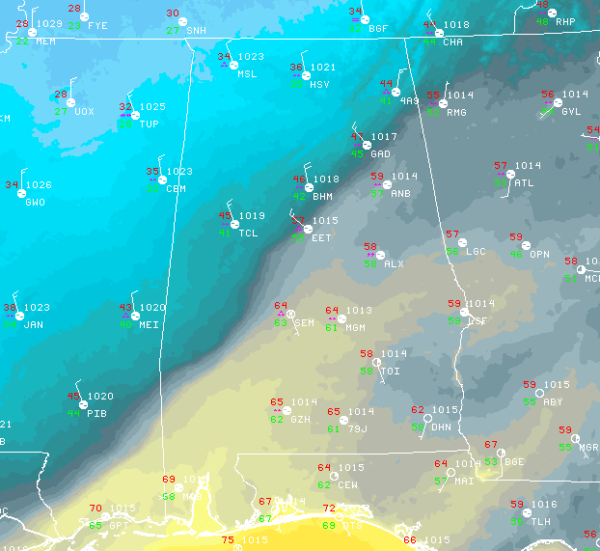 The cold front has now pushed east of the I-59 corridor and winds have picked up at the Birmingham-Shuttlesworth International Airport as of 2:30 am. Temperatures continue to fall behind the front as it is now 46 degrees in Birmingham, 45 in Tuscaloosa, 36 in Huntsville, and 34 degrees in Muscle Shoals.
We can see on radar that the change to a wintry mix may have already started in the northern parts of the area where temperatures are approaching the freezing mark, mainly in Huntsville to Decatur to Haleyville, with precipitation already ended in the northwestern corner of the state.
So far, the only location that has reported any issues is the city of Russellville in northeastern Franklin County. Slick spots are forming on the roadway, so please use caution if you are traveling in this time in that location.
---
Here is the latest Mesoscale Discussion from the Storm Prediction Center:
A strong cold front is pushing southeast across the southern states early this morning, stretching from western NC into northern GA, southeast AL and then just offshore coastal MS/LA. Isentropic ascent over the front is resulting in a broad area of mainly post-frontal showers from southern MS into AL and the southern Appalachians. Near the back edge of this precipitation, temperatures are dropping quickly, with temperatures at or below freezing noted as far south as Starkville MS to Huntsville AL, and some locations have recently reported rain changing to freezing rain. As temperatures continue to fall with southeastward extent over the next few hours, more locations may see a transition to freezing rain for a few hours before precipitation comes to an end toward 6:00 am. While ground temperatures will likely remain too warm for ice accumulations, elevated surfaces such as bridges and overpasses could see light freezing rain accumulation.
---
A Wind Advisory continues for all of North Alabama until 12:00 pm and for all of Central Alabama until 5:00 pm today. While the wind averaging 10-20 MPH sustained with gusts up to 30-40 MPH will drastically drop those wind chills, the good news is that it will help in evaporating the moisture on the roadways.
Remember it will be a very windy, raw, and cold day across the area later today, and Freeze Warnings have already been issued for all of Central Alabama through 10:00 am on Wednesday. Highs will struggle to reach the mid-30s to the mid-40s across the area, but lows tonight into Wednesday morning will be in the upper teens to the mid-20s. Some of the colder valleys may even dip into the lower teens.