Radar at 6:30 continues to show moderate to heavy rain falling over the western-third of Central Alabama. Unfortunately, training of cells over the same locations through much of the rest of the night may lead to some flooding issues over those locations.
An Areal Flood Advisory was just issued for parts of Lamar County until 9:30 pm tonight as the potential for another two inches of rain is expected over the advisory area. Some locations that will experience flooding include Vernon, Sulligent, Millport, Kennedy, Detroit, Beaverton, Blooming Grove, Lamar County Airport, Crews, Bedford, Cody, Henson Springs, Lamar County Public Lake, Star, Pine Springs, Hightogy and Melborne.
A Slight Risk of severe storms continues through the rest of the night for the southwestern parts of Central Alabama, especially for locations south of a line from Livingston and Linden and mainly west of Linden and Sweet Water.
A Marginal Risk continues well north of that to a line stretching from just south of Vernon to Holt to Brent and mainly west of a line from Brent to just west of Selma.
A few brief tornadoes and damaging winds up to 60 MPH may be possible in those risk locations. The treat is expected to end around 10:00 pm tonight.
A Tornado Watch continues in effect for the southwest corner of the state until 9:00 pm tonight. Several tornado warnings have been issued throughout the day and a few were confirmed causing some damage.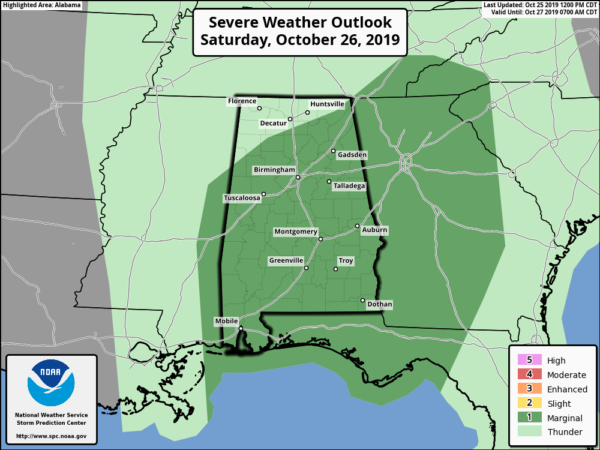 Nearly all of Central Alabama is in a Marginal Risk for severe storms throughout all of Saturday with the main threats being damaging winds up to 60 MPH and a brief tornado or two. The main window for those stronger to severe storms will be from 10:00 am to 10:00 pm from west to east across Central Alabama.
For the western-third, it will be from 10:00 am to 3:00 pm. For the central-third, it will be from 1:00 pm to 6:00 pm. For the eastern-third, it will be from 4:00 pm to 10:00 pm.
There will be a great deal of shear in place but instability still looks to remain rather weak. Lapse rates continue to appear to be too stable as well. But this is the Fall Severe Weather Season in Central Alabama… we have to be prepared and stay on our toes.